Adult Lending Library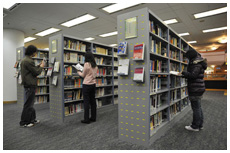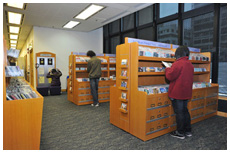 The Adult Lending Library is located on the 3/F of the Hong Kong Central Library. With the provision of a free and diversified collection including over 580 000 items of Chinese and English reading materials, English large print books, music scores and over 70 000 audio compact discs and CD-ROMs, the Adult Lending Library meets the community's need for knowledge and information, supports the public in using leisure time for self-learning and contributes to the promotion of local literary writing and arts.
Services Highlights

1. Reader's Advisory Service:

Professional librarians on duty are always ready to help readers with bibliographic and reference enquiries and to provide on-the-spot instructions on the use of library services and facilities.

2. Guide to Purposeful Reading:

Organising thematic book displays and exhibitions to promote recommended materials; and
Publishing booklists and suggested reading lists to promote the proper use of library resources and assist readers in meeting their informational, educational, recreational and self-learning needs.



For enquiries, please call 2921 0372.