Chinese Poetry Writing Competition
The HKPL has been organising the Chinese Poetry Writing Competition annually since 1991, with Chinese shi and ci poetry competitions being held in alternate years, to promote proficiency in Chinese language and the appreciation of Chinese literature with rhymes. This was the 16th competition for writing Chinese ci poetry and it received an overwhelming response.
The prize presentation was held at the Hong Kong Central Library on September 29, 2022. Guests included the Assistant Director of Leisure and Cultural Services (Libraries and Development), Mr LEE Tsz-chun, and adjudicators Professor HO Man-wui, Professor WONG Kuan-io and Professor LAU Wai-lam. Also adjudicating for this year's competition was Professor Nicholas Louis Chan.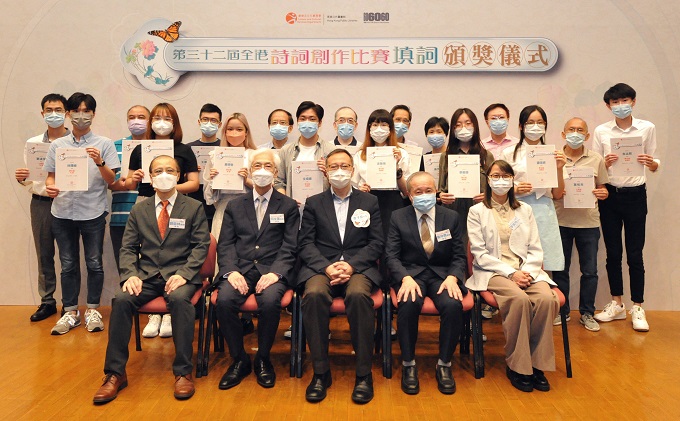 (Photo shows the award winners with guests, including (front row, from left) Professor LAU Wai-lam; Professor HO Man-wui; the Assistant Director of Leisure and Cultural Services (Libraries and Development), Mr LEE Tsz-chun; Professor WONG Kuan-io and the Chief Librarian (Hong Kong Central Library and Extension Activities), Miss Melinda LEE.)
Enquiries: 2928 4601 (Extension Activities Unit, Hong Kong Public Libraries)
[Monday to Friday (Except Public Holidays): 9:00 a.m. - 1:00 p.m., 2:00 p.m. - 6:00 p.m.]