Asia Pacific ICT Awards (APICTA) 2015 - Merit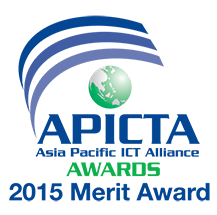 Asia Pacific ICT Awards (APICTA) 2015 - Merit
"Library at Your Fingertips" won merit award at Asia Pacific ICT Awards 2015
"Library at Your Fingertips", a key project of the Hong Kong Public Libraries (HKPL) of the Leisure and Cultural Services Department (LCSD) featuring e-services for library e-resources and mobile apps, has won the Merit Award (Government and Public Sector) at the Asia Pacific ICT Awards 2015.

With 16 participating Asia Pacific economies, APICTA is an internationally recognized awards program aimed to increase ICT awareness in the community and stimulate innovation and creativity generated for and from ICT by providing networking and product benchmarking opportunities to ICT innovators and entrepreneurs in the region.

"Library at Your Fingertips" consists of both the "My Library" and "Multimedia Information" mobile apps and the thematic page for e-Resources on the library website. All these e-services allow the public to enjoy library services and digital resources anytime and anywhere, and satisfy their demand for information, knowledge and leisure, which demonstrates the concept of a "library without walls".

The mobile apps are downloadable from Google Play or the App Store for free. Readers can also browse the HKPL website at http://mmis.hkpl.gov.hk to learn more about the MMIS services or http://www.hkpl.gov.hk/e-resources for the e-Resources thematic page.