"Joyful Reading at Your Neighbourhood: Library-on-Wheels" Pilot Project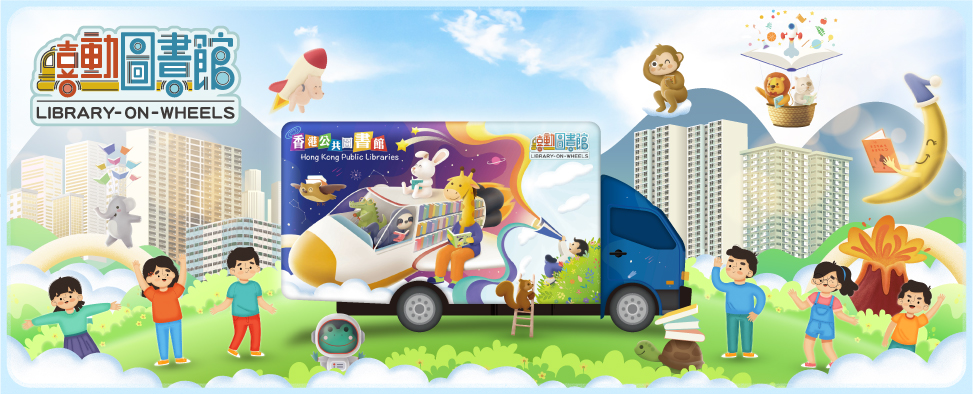 "Joyful Reading at Your Neighbourhood: Library-on-Wheels" Pilot Project
To further promote a city-wide reading culture, the Hong Kong Public Libraries (HKPL) will enhance library outreach activities and launch the "Joyful Reading at Your Neighbourhood: Library-on-Wheels" Pilot Project in January 2020. A specially designed truck will turn into the Library-on-Wheels and visit locations with heavier pedestrian flow but far from existing library facilities in a convenient manner. About 300 books on a specific theme will be selected for readers to borrow. Self-borrowing and returning equipment and tablets are also available. The pilot project aims to promote theme-based reading, library self-charging service, e-books, electronic resources and online services, and familiarise non-frequent library users with the vast resources and accessible services of public libraries.

The pilot project will also dovetail the "Joyful Reading at Your Neighbourhood - Pop-up Library" with diversified and vibrant outdoor activities to promote reading and library services in the community in weekends or public holidays.



Activities Organised by the Library-on-Wheels
Borrowing of Books through Self-service Equipment
About 300 Chinese and English books on a specific theme will be selected for registered readers of the HKPL to borrow through self-service equipment. Patrons are also welcome to return books borrowed from Hong Kong Public Libraries through the bookdrop.
e-Reading Experience
Patrons can experience the fun of e-reading, borrow and read e-books and e-magazines anywhere and anytime, and explore a wide range of HKPL's e-databases for knowledge acquisition or leisure reading.
Reading Promotion Activities
Interactive activities such as colouring, fun crafts and quizzes will be held on a regular basis. Themed book displays, story-telling sessions and cultural programmes will be organised on Saturdays and Sundays. Activities on public holidays will be announced in due course. Please visit Latest News for details.


Event Calendar of the Library-on-Wheels




Suspended on the following days
- New Year's Day, the First, Second and Third Day of the Chinese New Year, Good Friday, Christmas Day and Boxing Day
- Scheduled weekly closing day for regular maintenance and cleaning
* Last updated on 29 July 2021. Actual arrangements are subject to circumstances of the days of activities. Programmes are subject to change without prior notice.
Contact Us
Enquiries: 2751 1767