Click here to view the "Resources Highlights" for more selected library resources on specific topics
Readers may use the e-books via the following means
.access via Internet with the library account.
.use the workstations inside the Hong Kong Public Libraries via Multimedia Information System (MMIS) & this webpage.

The availability of e-books is subject to change without prior notice.
Overview of e-Book Collections
Chinese Audio Books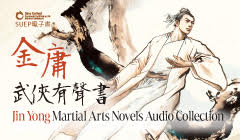 This audio collection offers a subscription package that features Jin Yong's martial arts novels, primarily in Cantonese. Readers can immerse themselves in the fascinating world of martial arts through the power of sound and enjoy a rich reading experience. The collection is available for use by readers with their library accounts on personal computers or mobile devices.

English Audio Books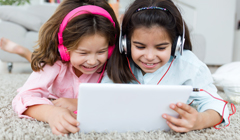 This online audiobook library contains a variety of titles on literature, poetry, fiction, non-fiction, drama, philosophy, religion, great epics and tales, opera, history, biographies, music education, etc. The audio books are mainly streamed in English, while some are in French, German or Portuguese. Most of the works come with synchronised full-text display on the screen. Users may read while listening to the audio books in order to enhance their reading, listening and pronunciation skills.