Teens' Reading Clubs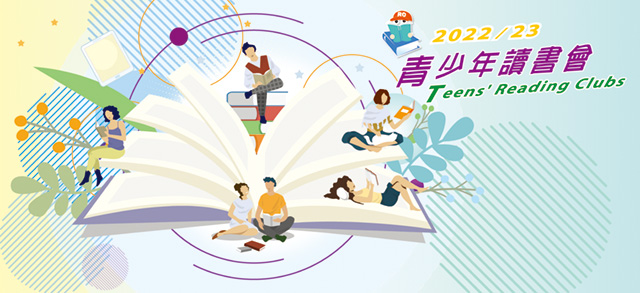 2022-23 Teens' Reading Clubs
Objective
To promote sustainable reading among youths. Encourage them to become life-long readers, facilitate personal growth and care for the community through guided reading, critical thinking, sharing and discussion.
Activities
Regular meetings will be arranged. It aims to elevate members' reading interest in the course of extensive reading on different topics, discussion and sharing. Reading materials may include printed or electronic versions of books, chapters or excerpts of books, newspapers, periodical articles, multimedia materials or selected articles on the related topics.

Members and facilitators are encouraged to join the "Web Discussion Forum" to share their views in order to strengthen the connection and communication.

In addition to regular meetings, "Meet-the-Authors" sessions will be arranged for members to get in touch with local authors or artists and exchange experiences in reading and creative writing.
Target Audience
Children and Youth from primary 4 to secondary 6 who are registered readers of the Hong Kong Public Libraries.
Details
About 20-30 members per reading club.

Members are required to attend 4 - 6 meetings (depending on the requirement of individual reading club), each at 1 hour to 1.5 hours. A certificate will be awarded to member if attendance rate reached 75%.

School nomination will be allotted 80% of the members' quota, while the remaining will be recruited through individual public libraries. Application forms are available at the libraries which hold the reading clubs. Members will be selected by drawing lots if the applications exceed the quota.