Service stop to continue providing services during temporary closure of North Lamma Public Library
28.12.2016
North Lamma Public Library in Islands District of the Leisure and Cultural Services Department (LCSD) will be temporarily closed, starting from December 28 this year to carry out the project of "Yung Shue Wan Library cum Heritage and Cultural Showroom, Lamma Island" under the Signature Project Scheme (Islands District). North Lamma Public Library is expected to reopen in 2019.
During the temporary closure of North Lamma Public Library, the LCSD will set up a provisional library service stop at TGLA No. TIS 785, Yung Shue Wan Plaza Road, Lamma Island (near Yung Shue Wan Plaza) to continue providing district residents with library services such as the borrowing of books and compact discs, catalogue searching, reservation of library materials and readers' advisory services.
The opening hours of the provisional library service stop are as below:
| | |
| --- | --- |
| Monday, Wednesday, Thursday and Saturday | 9.45 am - 1 pm; 2pm - 4.30 pm |
| Public Holidays* | 9.15 am – 1 pm |
| Tuesday, Friday & Sunday | Closed |
* New Year's Day, the first, second and third days of the Chinese New Year, Good Friday, Christmas Day and Boxing Day will be closed
Location Map for the Service Stop: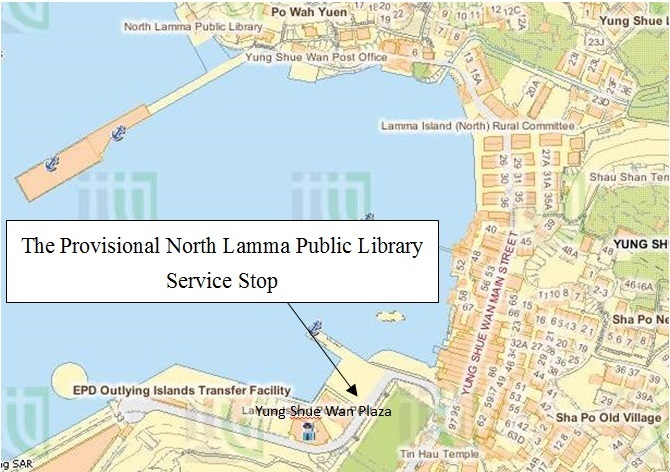 For enquiries, please call 6080 3528 or visit www.hkpl.gov.hk.