History and Background
The Hong Kong Central Library was established in 2001. Under the purview of the Leisure and Cultural Services Department of the HKSARG, it is the largest public library in the Hong Kong public libraries system in terms of floor areas, library services and with the most comprehensive collection.
Since its opening, the Hong Kong Central Library has been welcomed by the public. It has the highest attendance and borrowing rates among Hong Kong public libraries. According to UNESCO Public Library Manifesto, the Hong Kong Central Library aims to provide quality library services to every citizen and people from all age groups and walks of life.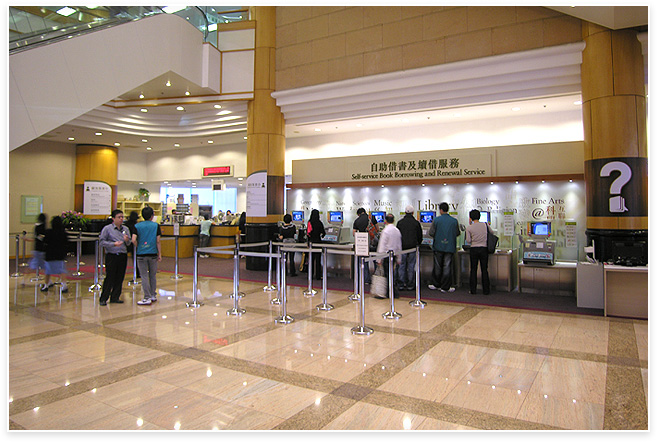 Special Characters of the Building Design
Consisting of 12 storeys, the Hong Kong Central Library has a gross area of 9,400 sq. metres and a floor area of 33,800 sq. metres. The arch-shaped entrance at the front elevation represents the Gate of Knowledge is always open. The logo design of the Hong Kong Central Library, featuring a circle, a square and a triangle, was inspired by the Chinese philosophies of "The Sky is round and the Earth square" and "Harmony of Man with Nature". The three graphic shapes stand for the sky, the earth and the accumulation of knowledge respectively. The Hong Kong Central Library has an intelligent building design. Power supply line and dataline, which reach every corner of the Library, have laid the necessary foundation for the building and development of digital library service in a digitalization era.
In order to embellish and enhance the cultural atmosphere and create an artistic environment for the library, three pieces of decorative art works selected from the "Competition on Design of Decorative Works of Art for the Hong Kong Central Library" held during its commissioning, are installed at different locations in the library:
Sprout
(Author: LAI Chi-man)




Inspiration: The main theme of the work portrays a sprouting seed at its germinal stage, nourished by favourable growing conditions. The importance of knowledge to human beings is comparable to the nourishment of water and sunshine to the budding seed.





The Fountain of Wisdom
(Author: MOK Yat-san)




Inspiration: The simplified and abstract sculpture represents the condition of water, just like the old Chinese scrolls. The stainless steel in silver grey presents the high-tech look and a new generation culture while the circular base implies the idea the Chinese people traditionally held towards the universe. Due to advances in technology, knowledge becomes as accessible and plentiful as water, flowing continuously from a fountain.





Enlightenment
(Author: LAU Siu-hong, Freeman)




Inspiration: It is a 7m x 7m sculptural mural, composed of glass panels and fibre glass frames installed on the interlink wall at the atrium of 8/F and 9/F. With the introduction of laser disc, computer and the Internet, the preservation and distribution of knowledge has been altered from traditional printed formats to "light" and "digital imagery".
Want to know more other basic information? Please click the following icons: